Mobile Matrix
Mobile Matrix is an Application to compile a list of relevant specifications and plans for all modern smart phones and mobile internet devices. It is primarily for a quick reference.
The following Application shows the Mobile Matrix Details.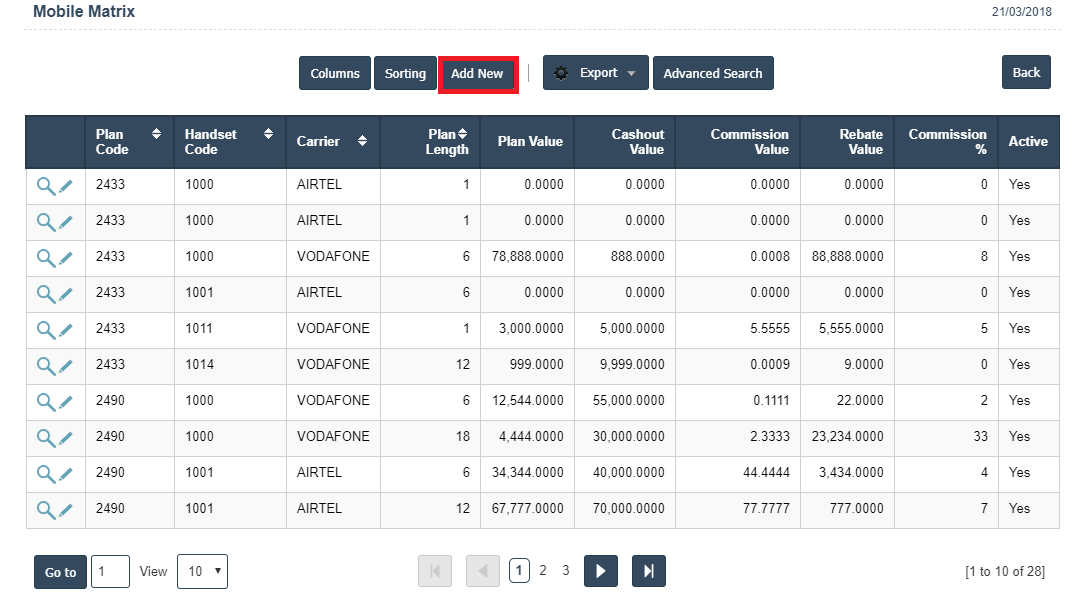 If we want to Add the New plans so click on Add New Button then it will displays the following image.

HandSet Code :

Field Type : VARCHAR

HTML Type : Text

Field size in DataBase : 20

Plan Value :

Field Type : DOUBLE

HTML Type : Text

Field size in DataBase : 10

Rebate Value :

Field Type : DOUBLE

HTML Type : Text

Field size in DataBase : 10

Rebate Percent :

Field Type : TINYINT

HTML Type : Text

Field size in DataBase : 3

Commission Value :

Field Type : DOUBLE

HTML Type : Text

Commission % :

Field Type : TINYINT

HTML Type : Text

Field size in DataBase : 3

Cashout Value :

Field Type : DOUBLE

HTML Type : Text

Field size in DataBase : 10